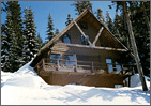 Road conditions: (800) 695-7623
Snow line: (800) 754-6199
Since Crystal Cabin is uniquely located in the Gold Hills community up on Crystal Mountain, access during the winter is by the Gold Hills chair lift, personal snowmobile or hiking.
A snow cat is provided for transporting your personal items to the cabin. In/out cargo only and additional fee for multiple trips. Summer access is by logging road; SUV or 4x4 recommended.
The Cabin
|
2008-2009 Calendar
|
Rental Agreement
|
Driving Directions